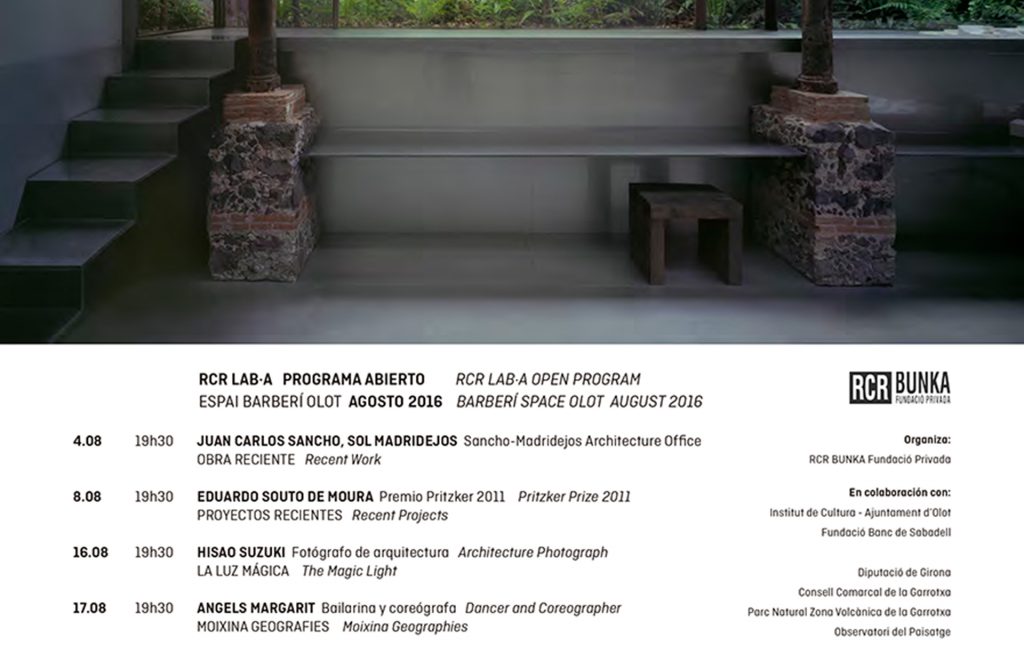 The theme of the 2017 edition was the void.
The seven conferences were given by Juan Carlos Sancho and Sol Madridejos, Eduardo Souto de Moura, Hisao Suzuki, Ángels Margarit, Alfons Flores, José Luis Raymond and Enric Batlle.
It is the first edition where scenography is incorporated during the I International Workshop of Scenography.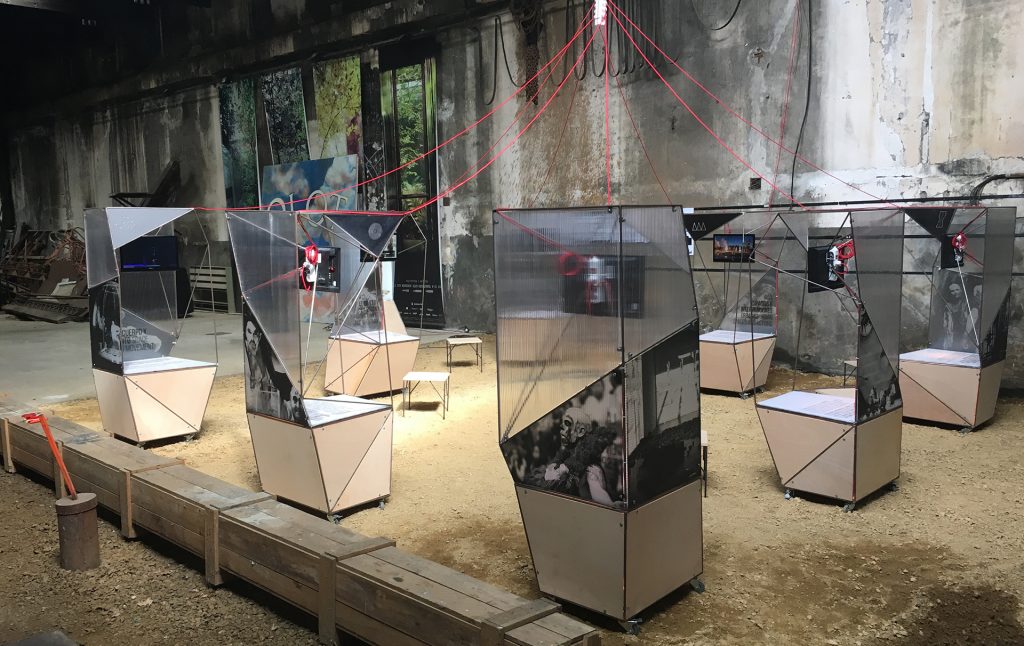 Transit Through Contemporary Spanish Scenography
Curator: José Luis Raymond
Assembly design: Zuloark
Ship of the Espai Barberí
From August 1 to September 11, 2016
The exhibition presents the current state of Spanish stage art through almost six hundred shows that premiered in Spain between 2010 and 2015. The exhibition explains how scenography has acquired a prominent role within the contemporary scene Spanish and how the search for new ways to tell stories has led Spanish scenographers to research and develop plastic solutions that support their creative thinking.
Monday, August 4, 2016 Conference | Architecture and Landscape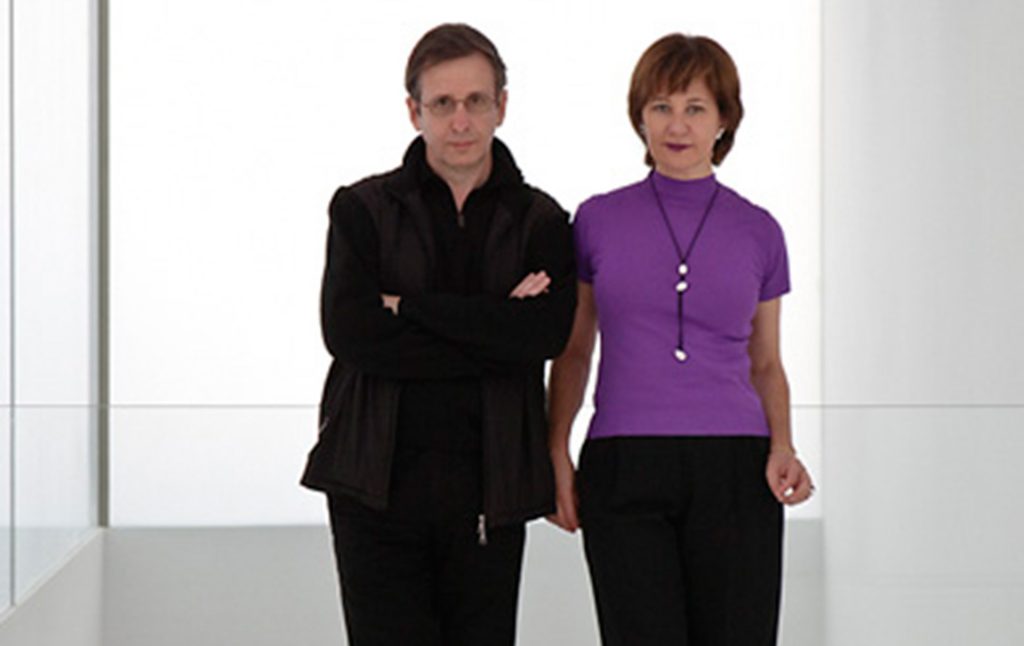 Recent work
Juan Carlos Sancho and Sol Madridejos
Sancho-Madridejos Architecture Office was founded in 1982 by Juan Carlos Sancho Osinaga (San Sebastián, Spain, 1957) and Sol Madridejos (Madrid, Spain, 1958), PhD in Architecture and architect from the Madrid School of Architecture. They have participated in open and restricted national and international architecture competitions, obtaining numerous prizes. Their work has been published in national and international exhibitions and publications. They have been invited professors and have taught courses, master's degrees, conferences and Masterclasses at universities and institutions in Spanish and foreign cities.
Tuesday, August 8, 2016 Conference | Architecture and Landscape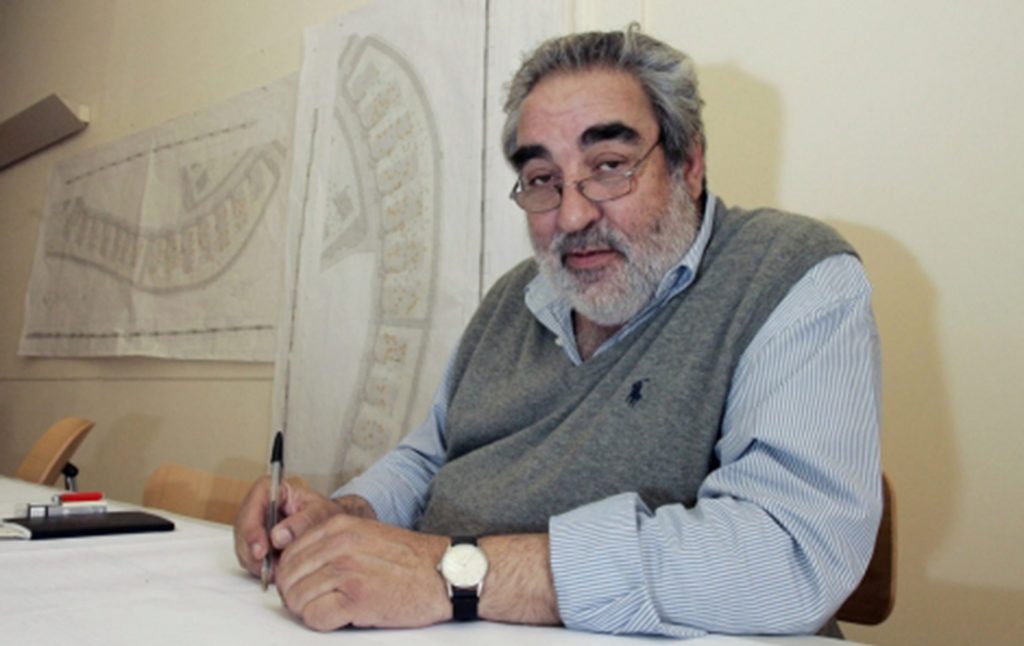 Recent Projects
Eduardo Souto de Moura
Eduardo Souto de Moura (Porto, Portugal, 1952) is an architect from the Escola Superior de Belas-Artes do Porto, 1980. He collaborated with Noé Dinis in 1974, with Álvaro Siza Vieira from 1975 to 1979, and with Fernandes de Sá from 1979 to 1980. From 1981 to 1991 he worked as Assistant Professor of the Architecture course at FAUP. He began his activity as a liberal professional in 1980. Guest professor in Paris-Belleville, Harvard, Dublin, Zurich, Lausanne and Mantua. He receives several awards, participates in several seminars and gives lectures in Portugal and abroad. In 2011 he received the Pritzker Prize and in 2013 the Wolf Prize.
Wednesday, August 16, 2016 Conference | Photography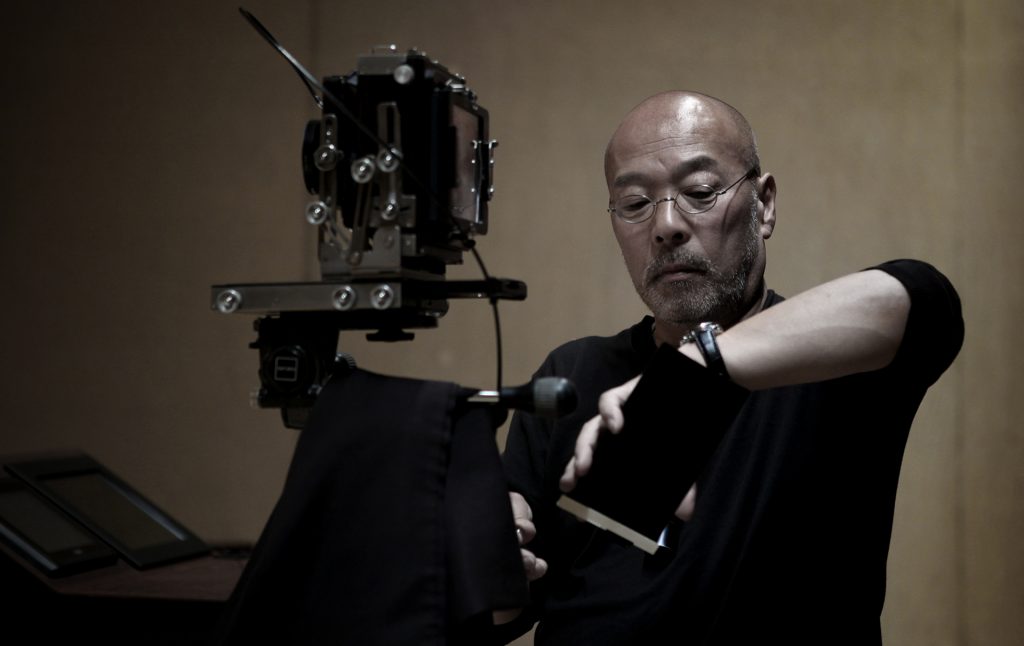 The Magic Light
Hisao Suzuki
Hisao Suzuki (Yamagata, Japón, 1957) se graduó en la Escuela de Fotografía de Tokio, 1979. Fascinado por la arquitectura de Antoni Gaudí, llega en 1982 a Barcelona, donde fija su residencia. En 1986 comienza a colaborar con la revista El Croquis, y se convierte en su fotógrafo principal, contribuyendo de este modo al reconocimiento de la publicación como el medio de difusión de arquitectura contemporánea con mayor prestigio a nivel mundial. Sus fotografías se han publicado en casi todas las revistas internacionales de arquitectura y diseño, así como en numerosos libros.
Friday, August 17, 2016 Conference | Dance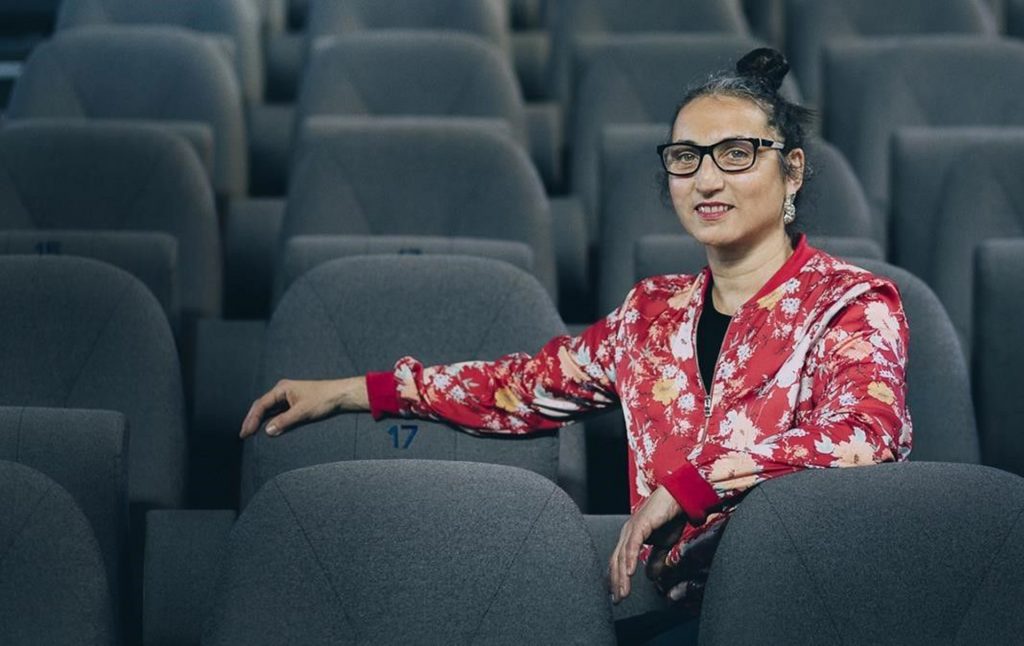 Containers and Distances
Àngels Margarit
Àngels Margarit (Tarrasa, Spain, 1960) is a dancer, pedagogue and choreographer. In 1985 she began the career of his company Àngels Margarit/company MUDANCES to create projects that include creations for the scenic space, site specifics, improvisation, video dance, installations and research in new media, with an excellent international projection. She has also developed different educational programs and regularly teaches courses and workshops in Spain, Europe and America. She has received numerous awards, such as the National Dance Award of Catalonia (1986), the Grand Prix du Concours Chorégraphique de Bagnolet, France (1988) and the National Dance Award of the Ministry of Culture of Spain (2010). Since 2016 she has been the artistic director of Mercat de les Flors in Barcelona.
Tuesday, August 18, 2016 Conference | Scenography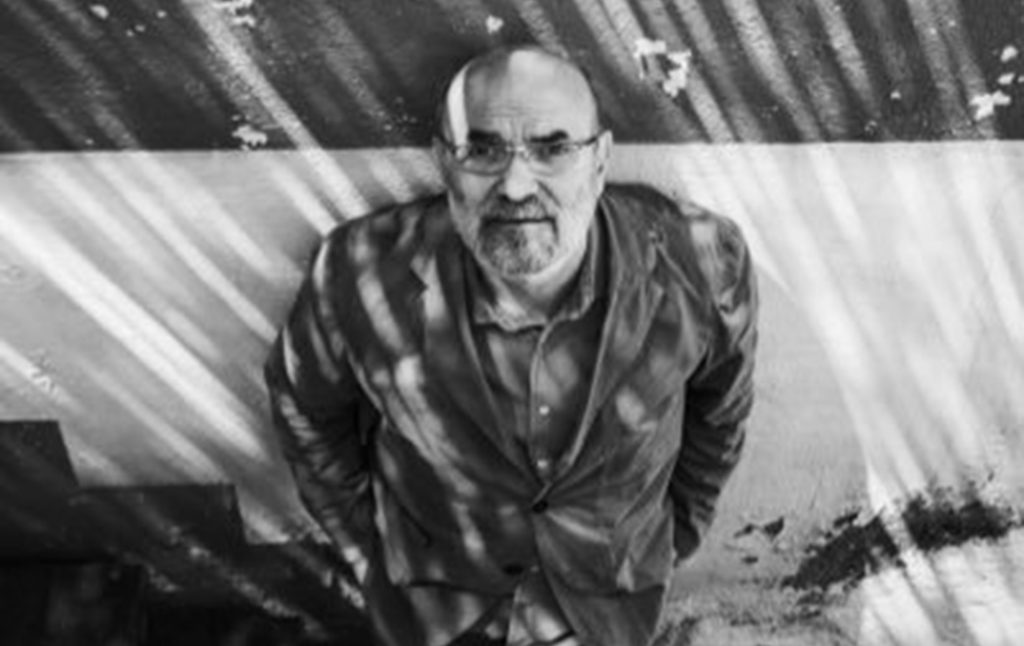 Scenography, according to Alfons Flores
Alfonso Flores
Alfons Flores (l'Hospitalet del Llobregat, Spain, 1957) began his professional career as a scenographer in 1978 at the GAT group in l'Hospitalet del Llobregat, of which he was a co-founder. His work includes scenography for theatre, operas, urban scenography and significant events, collaborating with directors such as Àlex Ollé (La Fura dels Baus), Calixto Bieito, Joan Anton Rechi, Joan Lluís Bozzo, Carlos Wagner and Guy Joosten. His work has been recognized with the Barcelona Critic's Award in 1996, 1998 and 2009. In addition, in 2000, he received the Irish Times Theater Award for Best Set Design for Las Comedias Bárbaras.
Wednesday, August 23, 2016 Conference | Scenography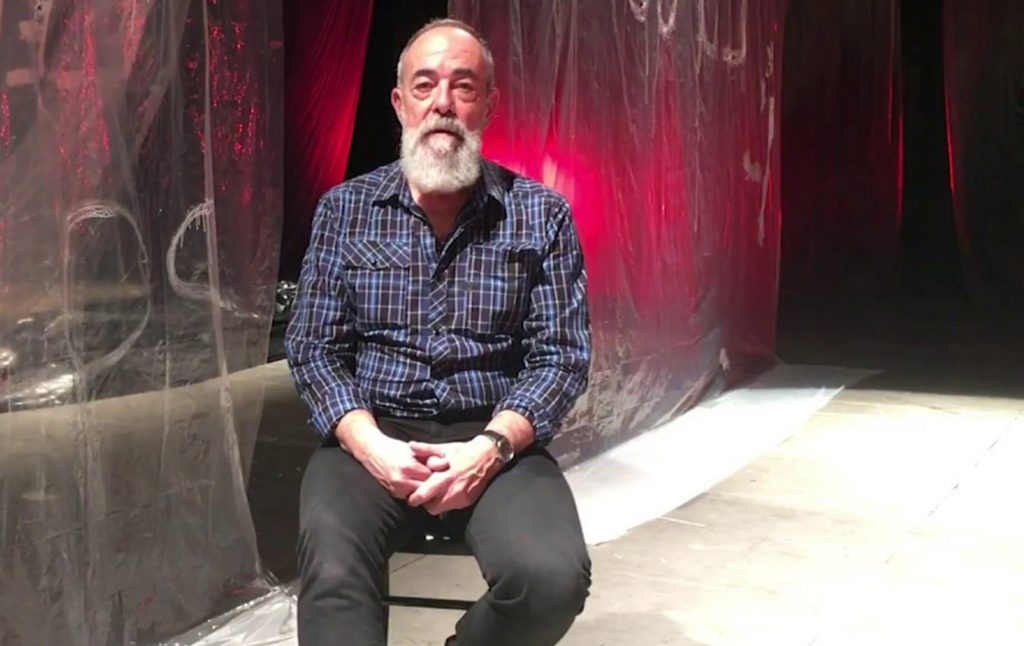 Transit Through Contemporary Spanish Scenography
Jose Luis Raymond
José Luis Raymond (Portugalete, Spain, 1954) holds a degree in Fine Arts and Pedagogy from the University of the Basque Country in Bilbao and has completed postgraduate studies in sculpture and scenic space in Warsaw and Amsterdam. As a plastic creator, he has held individual and group exhibitions and has works in private collections, as well as in museums in Poland, Holland, Switzerland and Spain. He has been the stage director of numerous operas and has worked as a scenographer for the National Drama Center (CDN) and the National Classical Theater Company, among others. He is currently a full professor of Scenic Space at the Royal School of Dramatic Art in Madrid (RESAD). He is a founding member of the Academy of Performing Arts of Spain.
Thursday, August 25, 2016 Conference | Architecture and Landscape
The Metropolis Garden
Enric Batlle
Enric Batlle Durany (Barcelona, 1956) is an architect from the Escola Técnica Superior de Barcelona and a doctorate in architecture since 2002 on The Metropolis Garden, published by the GG publishing house and winner of the FAD 2012 Theory and Criticism of Architecture. He is the director of the MBLandArch Landscape Master's degree and full professor of the Department of Urbanism and Spatial Planning, both at the Universitat Politècnica de Catalunya (UPC). He specializes in landscape design and has given many lectures and master's degrees worldwide.
Roig Batlle i Roig Architects was born in 1981 in partnership with Joan Roig to develop building, planning and landscape projects. His extensive work has won awards both nationally and internationally.