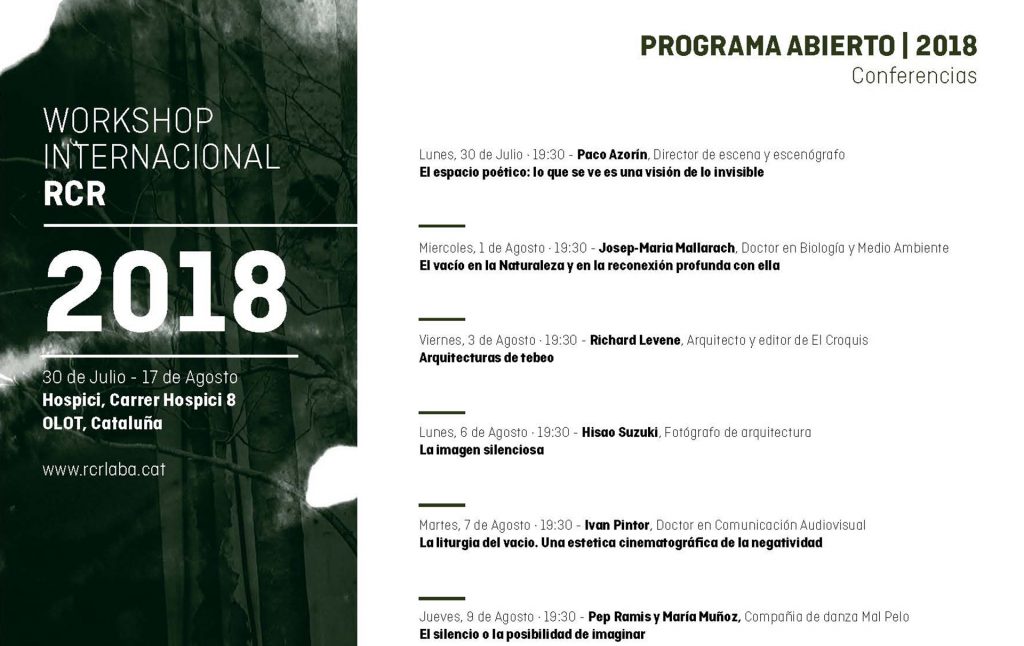 The theme of the 2018 edition has continued to be the void.
The seven conferences were given by Paco Azorín, Josep Maria Mallarach, Hisao Suzuki, Ivan Pintor Iranzo, Pep Ramis and María Muñoz, Shigeru Ban and Xavier Ros Majó.
Monday, July 30, 2018 Conference | Scenography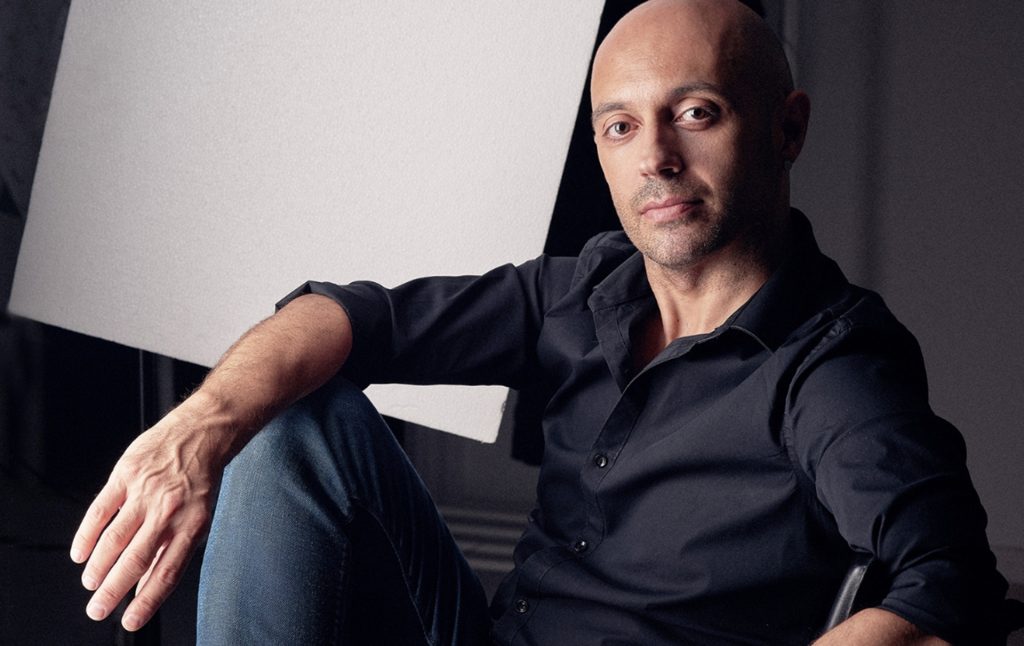 The Poetic Space: What You See Is A Vision Of The Invisible
Paco Azorín
Paco Azorín (Yecla, Spain, 1974) is a scenographer and stage director for the Institut del Teatre de Barcelona. He has created over two hundred scenographies for opera, theatre, zarzuela and dance in the most prestigious European theatres. As a set designer, he regularly works with the directors Lluís Pasqual, Carme Portaceli, Mario Gas, Francisco Negrín, Helena Pimenta, Sergi Belbel, Victor Ullate and Ernesto Caballero. He has received, among others, the Campoamor prize for the best production in 2015, the Ceres prize for the best scenographer in 2013, the Performing Arts prize for the best scenography in 2008 and the Josep Solbes prize in 2005, both from the Generalitat Valenciana.
Wednesday, August 1, 2018 Conference | Environment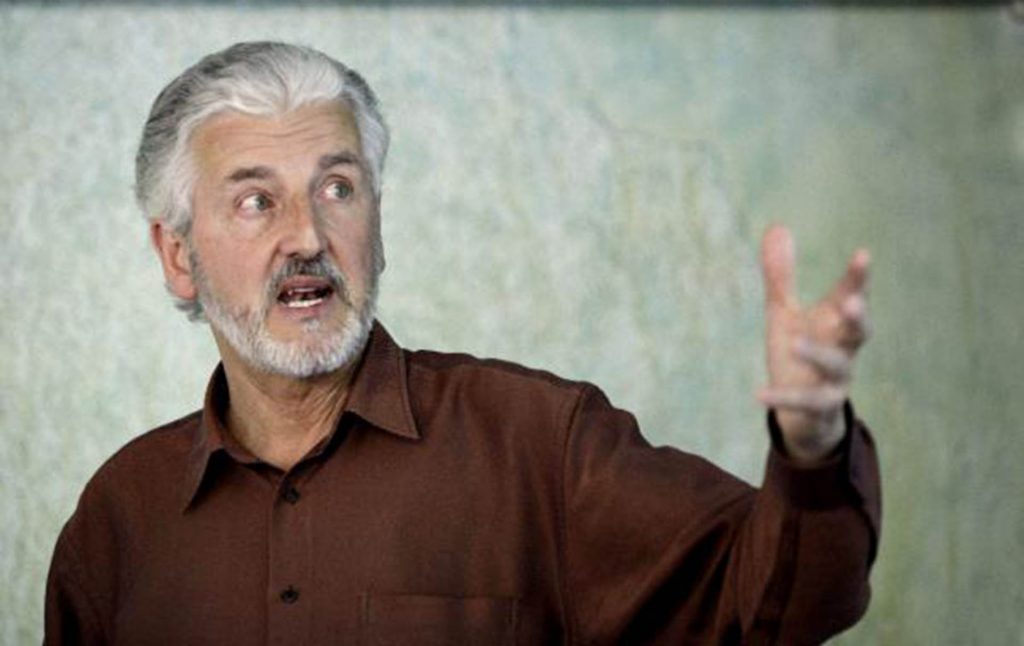 The Void in Nature and the Deep Reconnection with Her
Joseph Maria Mallarach
Josep Maria Mallarach (Olot, Spain, 1955) was the first director of the Garrotxa Volcanic Zone Natural Park (1985-1991) and coordinated with Josep Germain the initial assessment of Catalonia's protected areas system (2001-2003). It is part of the Working Group for the evaluation of the effectiveness of the management of protected areas of the World Commission of Protected Areas of the IUCN. He wrote the evaluation chapter of Spain's Protected Natural Areas Action Plan (2002) and the first evaluation (2007). Since 2001, he has directed the master's degree in protected natural areas at the Autonomous Universities of Madrid, Complutense and Alcalá de Henares. He has published six books and numerous articles. He is the founder of the Silene association to study, disseminate and promote the intangible spiritual and cultural heritage and its inherent values, especially with regard to Nature.
Monday, August 6, 2018 Conference | Photography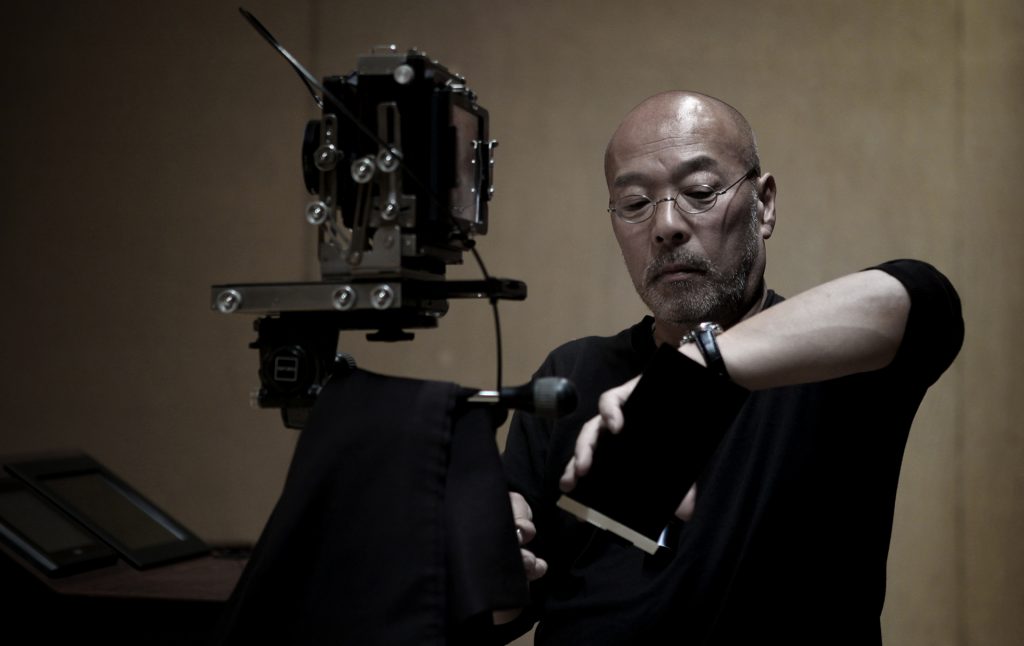 The Silent Image
Hisao Suzuki
Hisao Suzuki (Yamagata, Japan, 1957) graduated from the Tokyo School of Photography in 1979. Fascinated by the architecture of Antoni Gaudí, he arrived in Barcelona in 1982, where he settled. In 1986 he began to collaborate with the magazine El Croquis. He became its main photographer, contributing to the publication's recognition as the means of disseminating contemporary architecture with the most prestige worldwide. His photographs have been published in almost all international architecture and design magazines and numerous books.
Tuesday, August 7, 2018 Conference | Visual Arts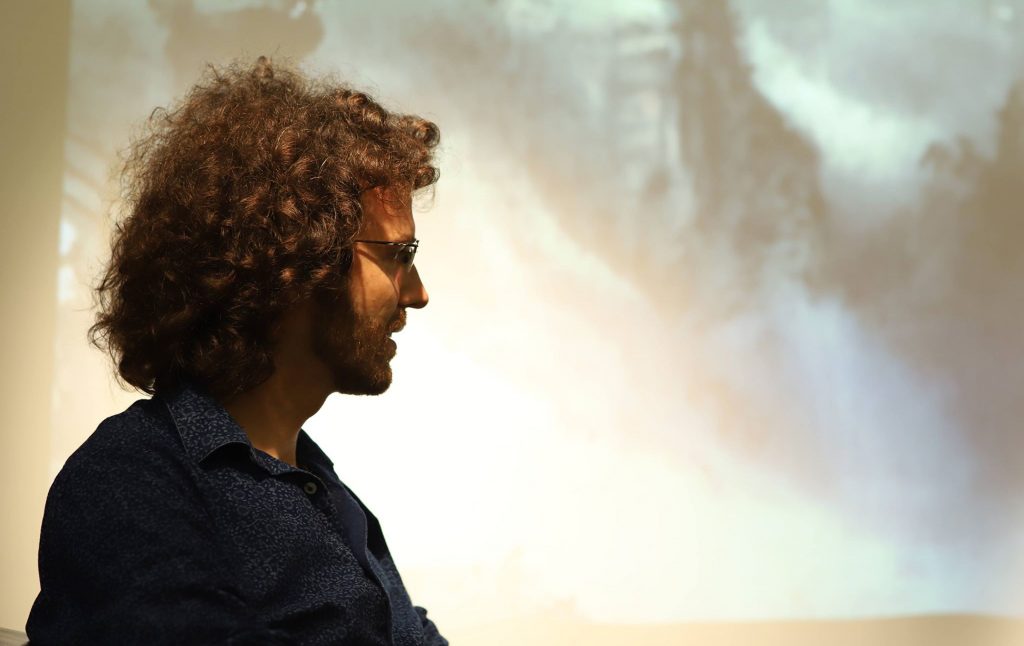 The Liturgy of the Void. A Cinematic Aesthetic of Negativity
Ivan Pintor Iranzo
Ivan Pintor Iranzo (Barcelona, Spain, 1975) holds a PhD in Audiovisual Communication. He is an associate professor in the Department of Communication at Pompeu Fabra University (UPF) and has taught at universities in Italy, Argentina and Colombia. He has contributed to more than thirty books, including Poètiques del gest al cinema contemporani, Il Cinéma de Juliol Medem and Univers Lynch. He has directed numerous cycles for the CaixaForum and the Congress Mutacions del gest (UPF, 2012). In addition, he has produced several audiovisual pieces for museums and television and regularly writes for La Vanguardia's Cultura/s supplement.
Thursday, August 9, 2018 Conference | Dance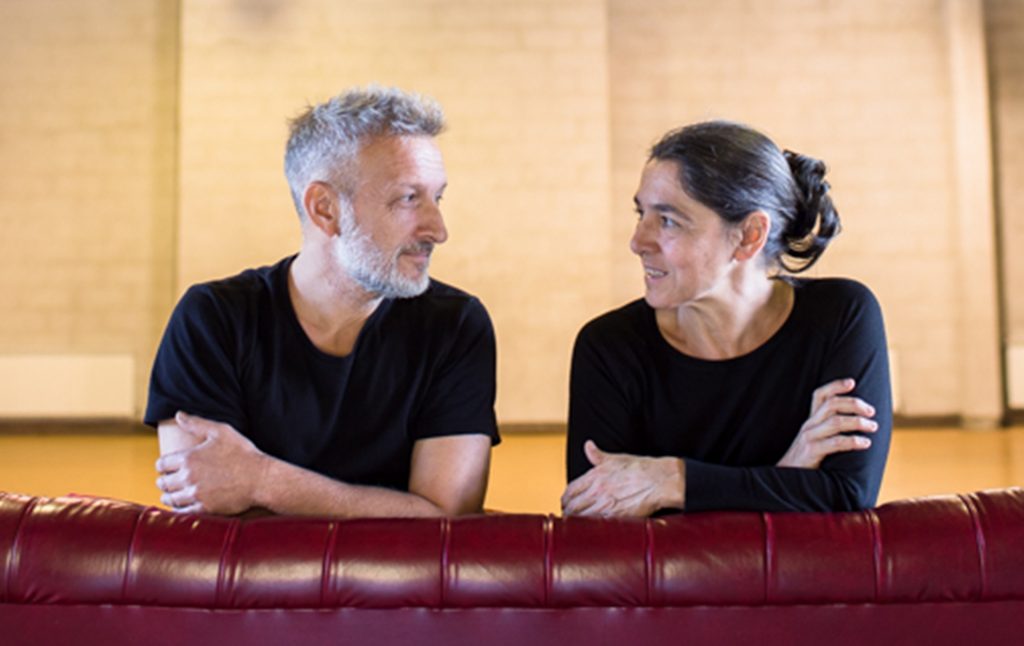 Silence or the Possibility to Imagine
Pep Ramis and María Muñoz
Pep Ramis (Manacor, Spain, 1962) is a stage director and dancer-actor. María Muñoz (Valencia, Spain, 1963) is a choreographer and dancer. In 1989 they formed the creation group Mal Pelo, with shows such as L'animal a l'esquena (2001), En el silenci (2003), BACH (2004) and The Mountain, Truth and Paradise (2017). Mal Pelo has received, among others, the 2002 National Dance Prize awarded by the Government of Catalonia and the 2009 National Dance Prize. In 2001 they promoted L'animal a l'esquena, a multidisciplinary creation and exchange centre for experimentation and the exchange of ideas and experiences between stage managers, musicians, video artists, theorists and dancers in a 19-hectare farmhouse in Celrà, Girona.
Friday, August 10, 2018 Conference | Architecture and Landscape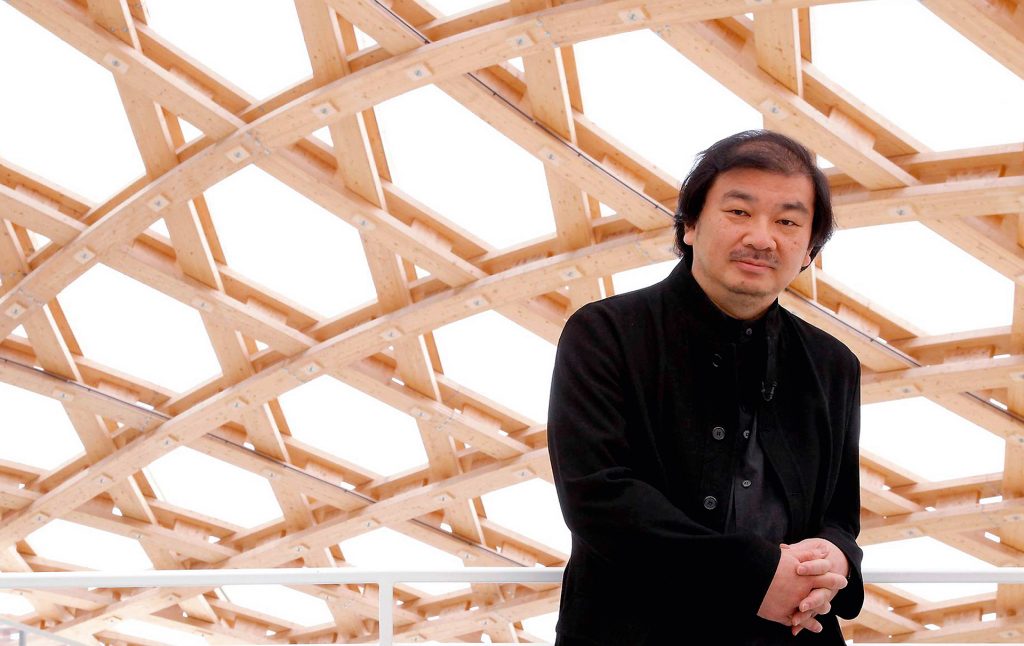 Work and Humanitarian Activities
Shigeru Ban
Shigeru Ban (Tokyo, Japan, 1957) is an architect from the Cooper Union. He began working with Arata Isozaki & Associates in 1982 and founded Shigeru Ban Architects in 1985. Since 1995 he has been a consultant to the United Nations High Commissioner for Refugees (UNHCR) and founded the NGO Voluntary Architects' Network (VAN). The Center Pompidou-Metz and the Museum of Art of the Prefecture of Oita stand out among his works. He has taught at Keio University (2001-2008), Harvard GSD, Cornell (2010), Kyoto University of Art and Design (2011-), and Keio University (2015-). He is an Officer (2010) and Commander (2014) of the Ordre des Arts et des Lettres de France. In 2014, he received the Pritzker Architecture Prize.
Wednesday, August 15, 2018 Conference | Architecture and Landscape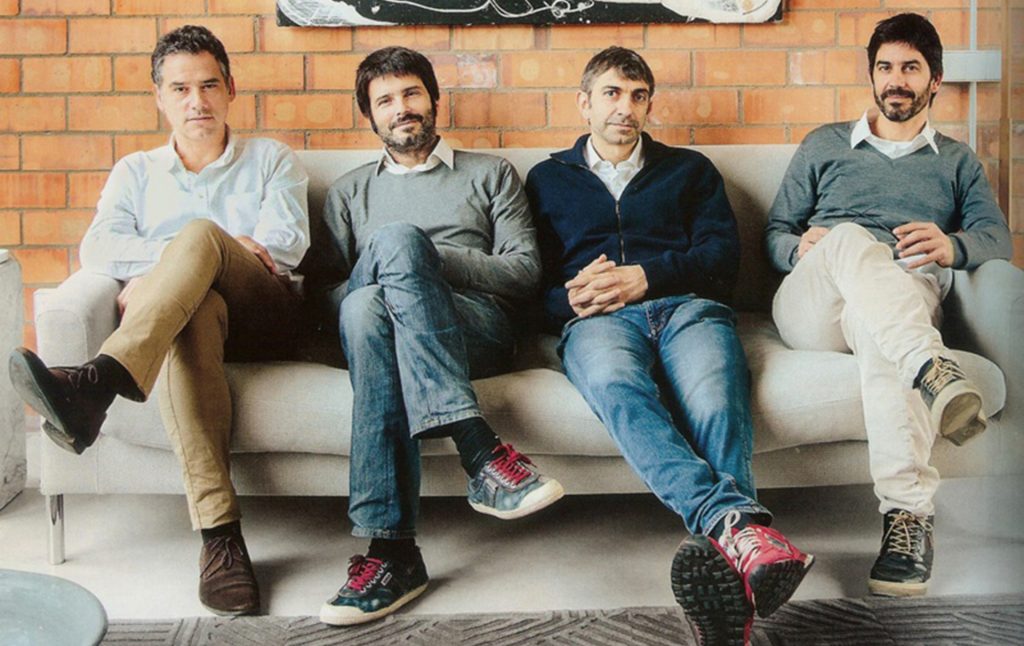 The Nature of a Building
Xavier Ros Majó
Xavier Ros Majó (Sabadell, Spain, 1972) is an architect from the Vallès School of Architecture (ETSAV-UPC). He founded HARQUITECTES in 2000 with David Lorente, Josep Ricart and Roger Tudó. Since 2010 he has been a professor of Projects at the Barcelona School of Architecture (ETSAB-UPC) and has given conferences in Europe and America. Their work has been disseminated in national and international media and exhibitions. Some distinctions are the Fritz Höger Preis 2014, Prize of the X Ibero-American Architecture and Urbanism Biennale 2016 and City of Barcelona Prize 2017.